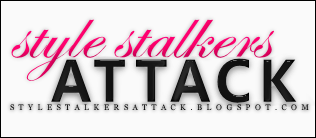 Style Stalkers Attack is a Stardoll Fashion blog owned by Princessvx
The site URL is http://stylestalkersattack.blogspot.com !
"Style Stalkers Attack is a fashion blog based on all things fashion. It provides clear, but constructive outfit ratings of medolls, and Elites'. The goal of the blog is to get 100 followers, and continue doing more interesting segments. eg: Style Stalking!" - Princessvx
Be sure to check it out & follow! Visit directly here.